Many people have extra strands, but what's the best way to use them? Crochet, that's it! This Larksfoot Stitch Blanket Tutorial will show you how to make a cozy blanket from scratch using basic knit and purl stitches. You will need enough worsted yarn for this project at 250g/328 yards or 175 yards/50g. With just a few other materials, you can make a spectacular lap blanket in no time.
The Larksfoot Stitch Blanket is a versatile and simple crochet project that can be worked in any size. The blanket is made up of a series of rectangular panels joined together using Larksfoot Stitch. This stitch is worked across the entire width of the panel, then the stitches are gathered along the edge and worked back into the fabric.
This pattern is perfect for beginners who want to learn to crochet. The Blanket is easy to follow and creates a sturdy fabric. Once you master this stitch, you can use it to create other crochet projects like blankets, pillows, shawls, and hats.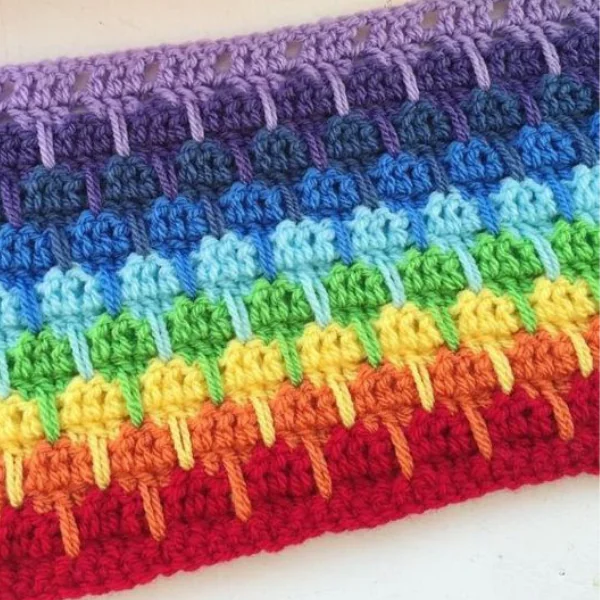 Larksfoot Stitch Blanket is a simple, easy-to-follow crochet pattern that creates a rectangular blanket using Larksfoot stitch. This stitch is created by crocheting several stitches in the same row and then working to the back of these stitches. This creates a chevron-shaped design on your blankets.
To make this blanket, you will need to know how to make the stitch. The standard includes instructions for US and UK terms. After you complete the pattern, you can wash the blanket in the washing machine or by hand and dry it flat. If you want to add a border, we've included instructions for doing that too.
Attention: This is not a sponsored post. We love this project so much that we wanted to share it with our readers!
This crochet blanket pattern is designed to be worked in a spiral. It's a quick and easy project that can be completed in a few hours.
You will need:
-1 ball of yarn in each of the 3 colors (A, B and C)
crochet hook size H (5.0 mm)
scissors
Tapestry needle
Learn how to make:
Access yhe free pattern/ LARKSFOOT STITCH BLANKET
If you enjoyed this article please share and Like our Facebook.
Please tagg me in your photos on Facebook and post you final result on my group It's
JOIN THE FACEBOOK GROUP CLICK HERE
If you liked this walkthrough, but would like to see some more options, below I will leave some more models for you to be inspired by:
Crochet Cluster V-Stitch Blanket
Crochet Baby Star Blanket Wrap Cozy
We at the blog I Love Crochet wish you all a great week, and especially a lot of creativity and good spirits to design another beautiful crochet piece.
With affection, I Love Crochet!